THANKS FOR TAKING A LOOK AT OUR SITE!

IF YOU ARE VIEWING OUR SITE ON A MOBILE DEVICE, PLEASE SCROLL TO THE BOTTOM OF THE PAGE AND CLICK ON 'WEB'.
---
We accept all major credit cards at your home or business with instant approval.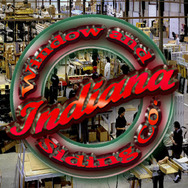 We're real busy here at Indiana Window And Siding Company fixing up peoples homes, modular homes, businesses, and churches, with top quality, custom made, energy efficient vinyl replacement windows, all types of doors, premium vinyl siding, soffit, fascia, and custom trim wrapping. So we're sorry that we don't have much free time to fill our site up with a bunch of fancy looking stuff!
If you'd like a free estimate on any of our products, please call our office at 812-825-5436, 812-829-4998, or 1-800-374-3842.
We're very proud of the reputation we've developed over the years. It's real simple:
1) Use the highest quality products available for your home.
2) Have them installed by the absolute best installers.
3) Do it all at a real nice price.
4) If there's any problem in the future with our work, get back there right away and fix it, usually for free!
---
Feel free to take a closer look at some of our work in the photos below.You might even find a friend or neighbor there. Most of them are in and around the Bloomington area. All pictures in the expanded view come with a complete name and address attached to them. Sorry that they aren't all crystal clear, but a lot of these jobs were done many years ago, before we had a digital camera!

JUST LEFT CLICK ON A PICTURE TO GET A LARGER VIEW.
Then you can scroll back and forth through them all:
If you go look at some of these jobs and they're not as new and clean looking as they are in these pictures, please bear in mind that they might have been done many years ago.
For example, the 2 story white house in photo #34 (Randall and Charisse Hughes) was a job we did in 1997. And we remodeled the yellow 1 story home in picture #40 (Ken and Shirley Smith) in 1996.
So, if you see anything that looks broken or damaged, please call us and tell us and we''ll go fix it. Thanks!